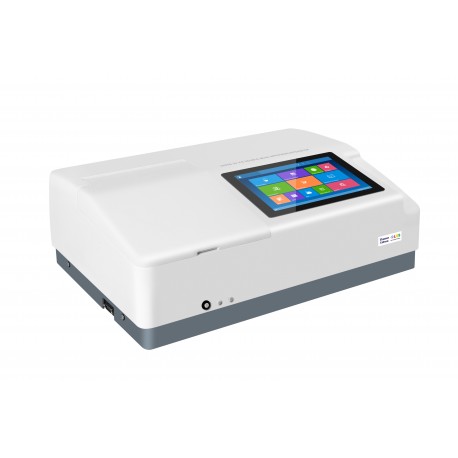 Double beam (TE U2900) (THOMAS EDISON)
TE U2900 is high precision and high stability Double Beam UV/VIS spectrophotometer, with
large colour screen and Window-based operating system. It has rich interface, easy to operate
and is the right choices for pharmaceutical, food, environment, life sciences, QA/QC/R&D and
academic research.
This product is no longer in stock
Warning: Last items in stock!
Availability date:

Pharmaceutical Industry Compliance
TE U2900 fully complies to the stringent analytical requirements of pharmacopoeia such as USP <857>, European Pharmacopoeia (EP) and British Pharmacopoeia (BP).
Built-in Computer and rich interfaces
TE U2900 with its built-in computer and rich interfaces (USB, Ethernet, HDMI, VGA, etc) makes it very convenient for users to connect to printer, memory card, mouse, keyboard, display, etc. It can easily be extended to WIFI, Bluetooth and other wireless devices.
Options
Full Accessories available: including test tube holder, water jacketed cell holder, solid sample holder, micro cell holder, glass film holder, 8-position auto cell changer, 5° reflectance holder & sipper system for other applications. 
Technical Specification
Optical System : Double Beam
Light Source : D2 Lamp, Tungsten Lamp
Wavelength range : 190 to 1100 nm
Wavelength Accuracy: ±0.3 nm
Wavelength repeatability: ≤0.2 nm
Spectrum Bandwidth: 1 nm
Display: 10.1 inch IPS colour LCD with touch screen (1280 x 800)
Storage: 64GB (built-in), unlimited expansion USB memory and network storage device
Interface: USB x 4, RJ-45 (Ethernet) ×1, VGA ×1, HDMI ×1
*** Do you know? ***
Every TE U2900 UV-Vis spectrophotometer is calibrated and issued with ISO/IEC 17025 Accredited Calibration Certificates, ensuring that the high precision and performance specifications are in compliance with international standards.